Cross Stitch News
Tuesday, April 26, 2016 - 17:39
Blackbird Designs has really been in the news lately!
Their ongoing series "In The Garden", has a new release titled Climbing The...
Tuesday, February 23, 2016 - 14:38
It is time again for the Cross Stitch Industry Wholesale Market held annually in Nashville to begin. The dates are March 4th-7th, 2016 and I will be there as I go every year. I will not return to the shop until March 8, 2016. I am listing the new...
Thursday, December 17, 2015 - 18:40
I wanted to wish each of you a very Merry Christmas and Happy New Year from Stitch and Frog! It has been another great year of growth at the "Frog" and I thank each of you for it. 
I will be taking off December 23rd - December 27th to...
Saturday, October 31, 2015 - 10:26
Update: November 20, 2015 - this sale has eneded. Thank you for your orders!
I am not sure where the time goes but the Frog has been hopping with little time for a newsletter but so much to share! Please note that when...
Sunday, October 11, 2015 - 18:19
The Online Needlework Show October 15-20th is for wholesale buyers only but the sponsor does allow stitchers to review what is available for shops to purchase. Here is a link to the event and if you see anything you would like to order, let me...
Thursday, September 10, 2015 - 10:44
Market Harvest Hop is an online show for wholesale buyers to purchase items from many popular designers. The show starts September 10th and ends on September 13th. During this time, shops will place orders directly with designers who promise to...
Friday, September 4, 2015 - 15:21
Liberty Hill Olde Salem Stitchers Boxe  is the title of this limited edition hand painted box from Liberty Hill that features a spooky street scene on a box that opens like a book to review a threadboard and fob (scissors are not included). The...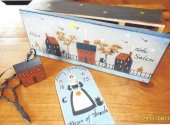 Wednesday, July 29, 2015 - 10:08
Greetings! August is going to be a busy month for stitchers and a great time to get ready for fall and Christmas stitching! It is also going to be a month of pre-orders which I rarely do. However, with so much coming by mid-August, I am...
Thursday, July 2, 2015 - 19:06
Update July 10, 2015: the Halloween in July Sale has now ended and thank you for your orders! The 20% offer on the Just Cross Stitch Halloween Magazine has ended as well as is listed at its retail price of $9.99. I am working hard to get...
Friday, June 5, 2015 - 15:56
Update: the Primitive Designer Sale has now ended; thank you again for your orders.
I hope this newsletter finds you enjoying the month of June as we all sail into 'summer stitching'. While June is busy, July promises to...
Pages