Designer
Abby Rose Designs (26)
Alessandra Adelaide Needleworks (15)
Annie Beez Folk Art (1)
Artful Offerings (1)
AuryTM Designs (5)
Barbara Ana Deisgns (1)
Barbara Ana Designs (10)
Bent Creek (32)
Blackberry Lane Designs (21)
Blackbird Designs (64)
Camille Colje-Camps (1)
Cardan Antiques and Needlework (1)
Carriage House Samplings (14)
Chatelaine Designs (2)
Chessie and Me (14)
Cottage Garden Samplings (1)
Country Cottage Needleworks (116)
Cross Eyed Cricket (9)
Cross Eyed Cricket (17)
Cross Stitch Antiquee (1)
Cross Stitch Antiques (7)
Cuore e Batticuore (7)
Dames of the Needle (7)
Dulaney Woods Treasures (3)
Erica Michaels (20)
Fairy Wool In The Wood (6)
Fern Ridge Collections (2)
Foxwood Crossings (3)
From The Heart (2)
GiGi R (81)
Hands Across The Sea Samplers (6)
Hands On Design (74)
Hands On Designs (1)
Heart In Hand (3)
Heart In Hand Needleart (43)
Heart's Ease Examplar Workes (1)
Heartstring Samplery (32)
Homespun Elegance (19)
Imaginating (5)
Ink Circles (9)
Jardin Prive (5)
JBW Designs (15)
Jeanette Douglas Designs (3)
Just Another Button Company (2)
Just Nan (19)
Kathy Barrick (37)
Kit and Bixby (8)
Kooler Design Studio (1)
La D Da (26)
Lila's Studio (16)
Little House Needleworks (135)
Lizzie Kate (21)
Lone Elm Lane (10)
Long Dog Samplers (6)
Madame Chantilly (6)
Mani di Donna (4)
Merry Wind Farm (6)
Michelle Ink Designs (2)
Milady's Needle (1)
Mirabilia (56)
Misty Hill Studio (1)
MTV Designs (8)
Needle Bling Designs (7)
Needle WorkPress (17)
Needlemade Designs (2)
Niky's Creations (22)
Nora Corbett (81)
Notforgotten Farm (5)
Pine Mountain Designs (3)
Pineberry Lane (17)
Plum Street Samplers (93)
Praiseworthy Stitches (22)
Queenstown Sampler Designs (21)
Reflets de Soie (5)
Rosewood Manor (52)
Samplers Forever (1)
Samplers Not Forgotten (24)
Samplers Remembered (1)
Samplers Revisited (5)
Samsarah Design Studio (11)
Scattered Seed Samplers (14)
Scissor Tail Designs (1)
Shannon Christine Designs (3)
Shepherd's Bush (31)
Silver Creek Samplers (9)
Stacy Nash Primitives (23)
StitchyBox (1)
Sue Coleman (4)
Sue Colement (1)
Sue Hillis Designs (5)
Summer House Stitche Workes (17)
The Bee Company (2)
The Bee Cottage (2)
The Drawn Thread (13)
The Nebby Needle (5)
The Prairie Schooler (55)
The Sampler House (1)
The Scarlett House (33)
The Trilogy (2)
Threadwork Primitives (19)
Tree of Life Samplings (8)
Val's Stuff (10)
Victorian Rose Needlearts (10)
Waxing Moon Designs (5)
With Thy Needle and Thread (24)
Woolly Ewe (1)
X Squared (1)
Click to See More
Click to See Less
Subject
Christmas (206)
Nashville Market 2018 (141)
Reproduction Sampler (124)
Halloween (106)
Nashville Market 2017 (80)
Patriotic (62)
Nashville Market 2016 (51)
Sampler (47)
Autumn (39)
Nashville 2015 (39)
Winter (37)
Santa (34)
Alphabet (28)
Spring (28)
Mermaid (27)
Beach (27)
Letters From Nora (26)
Flowers (26)
Harvest Market Hop 2016 (25)
Love (25)
St Charles Market 2014 (24)
Summer (23)
Home (23)
Birds (22)
Stitching (21)
Quaker (19)
Primitive (19)
Reproduction Samplers (19)
Witch (19)
Sampler (19)
Thanksgiving (18)
Bird (18)
Fall (17)
Snow (17)
House (17)
Snowman (16)
letters from mermaids (16)
Harvest Market Hop 2015 (16)
sayings (15)
Valentine (13)
Bees (13)
Coffee (13)
Harvest Market Hop 2017 (13)
Month (13)
Bunny (12)
Cat (12)
Lady (12)
Little Sheep Virtues (12)
Santa's Village (12)
Easter (11)
Friendship (11)
Floral (11)
Sheep (11)
Deer (11)
Garden (11)
main street (10)
Crow (10)
Fairy (10)
primitive cross stitch (10)
sea (10)
Christmas Ornament (10)
Click to See More
Click to See Less
Sophie's Stocking Cross Stitch
Another addition to the amazing Shepherd's Bush stocking series titled "Sophie's Stocking".  The design uses DMC Perle Cotton (Ercu, Lt/Med/Dark Rose, Deep Mauve, Lt/Med/Dark Green, Dark Taupe, Butter, Navy, Brown, Dark Rose, Lt/Med/Dark Blue and Lt/Dark Purple). 
Ships:
Usually Ships in 2 to 4 days
More items like "Sophie's Stocking"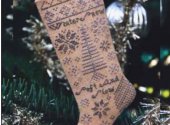 Winter Snow Stocking is the title of this cross stitch pattern from Heartstring Samplery that is...
Featured Items
Pre-Order! Queen Bee Flower Farm is the title of this cross stitch pattern from Hands On Design

Sheep Heap is the title of this cross stitch pattern from Plum Street Samplers that is stitched with

Snort Snack is the title of this cross stitch pattern from Plum Street Samplers that is stitched wit

Goat Load is the title of this cross stitch pattern from Plum Street Samplers that is stitched with

Strawberry Fields Forever is the title of this cross stitch pattern from Blackbird Designs that is s

Dairy Darlin' is the title of this cross stitch pattern that is the 4th release in Little House Need